Allied Fence & Security has been helping individuals find the perfect fencing solutions in central Texas for their needs since 1950. Since our early years, we have been committed to providing affordable and customizable options while ensuring security and an elegant appearance. We carry HUB/MBE/SBE certifications and offer dependable and long-lasting professional installation and repair services. Whether you are looking to secure your entire property or protect certain areas, such as a pool or garden, we can provide the professional services you need to get the job done with ease.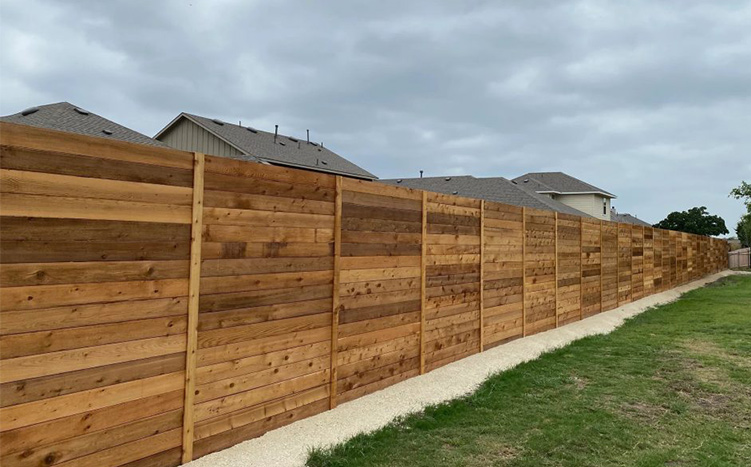 Fence Installation & Security Services in Lakeway
At Allied Fence & Security, your protection and peace of mind are our most important values. We have knowledge and experience providing installations for residential and commercial properties of different sizes. We work with multiple fencing materials to ensure we can install exactly what you need: wood privacy fencing, chain-link fencing, or iron fencing. We are also a leading company in security services, aiding in gate installation and security devices.
Exterior woodwork will never go out of style. Wood provides a classic feel while still allowing for wood grain and color customization options. Wood fencing can be an excellent look for homes and businesses that want to remain inviting while maintaining a certain level of discretion and privacy. This fencing style is popular for spaces where you don't want prying eyes, such as a family backyard or an intimate dining patio. We can help you find the perfect wood privacy fencing for your needs and budget.
Chain link fencing provides additional security while allowing visibility to the surroundings of your property. We can provide quality chain link installation for properties of any size, ranging from residential yards to large commercial properties such as renewable energy farms. In fact, we have worked with renewable energy farms, and we can attest to the effectiveness of chain link fences for these properties. We work with various chain link fencing materials and gauges, ensuring you will get equal fencing quality for your security needs.
Iron fencing can be the best selection when you want a material that adds security but is also eye-catching. This fencing allows you numerous creative options regarding color and decorative styles. With artistic details and techniques, an iron fence can improve the elegant appearance of your home or business property. It not only looks great but can also add protection when securing specific areas against children, pets, and unwanted guests. With iron fencing, you establish a barrier to the perimeter of your property and allow your landscaping, pool, or garden to be visible. Iron fencing is especially popular for homes with an outdoor pool. We can even provide additional mesh to your fencing to add a layer of protection for those with small pets or children.
One of the main reasons home and business owners seek our services is to improve the security of their property. We take pride in staying up-to-date with the latest technologies to keep you and your property safe. No matter what level of protection you are trying to achieve, we can help. We can discuss the best security fences, monitoring alternatives, and automatic gates for your specific goals.
Installing a gate is a valuable investment that helps you better control access to your property through driveways or garages. The experts at Allied Fence & Security can help you better understand your options when it comes to gating solutions. We can help you explore automated gates, solar-powered gates, loop installation, card readers, motion detection, and more. You'll love the peace of mind a quality gate and a secure fence can provide for your residential or commercial facility.
A damaged fence is a security risk. It also takes away from the appearance of your building. If your fence becomes damaged, we can quickly provide the repairs you need. We can handle any level of repair, from minor wear and tear to significant damage caused by storms or human error. We always guarantee to use high-quality materials and proven techniques to ensure our repairs are long-lasting.
Let Us Help
Allied Fence & Security is proud to serve our Lakeway community customers with residential and commercial fencing or security needs. Since 1950, we have built a reputation for delivering superior customer satisfaction and lasting results. Whether you are looking for full property fencing or specific areas to increase safety, we can help. Contact us to learn more about our services.